I haven't blogged in a while because not much has been going on. The three beta readers who planned to do a full read couldn't meet my deadline so I had to scrap that extra read after a few weeks and turn the manuscript over to my sister for editing. We fell a little behind schedule as I got the pages to her later than expected and as I only allowed four weeks for my sister to get through the manuscript and she needed a couple weeks more as she has a stressful day job just like I do. But I received the manuscript back and accepted most of the revisions. I then gave the manuscript to my mother, who has been dying to read it, for one last proofreading, which she finished on Friday. Today, I finished writing the Thank You page. So after I post this, I'll turn the final version over to my interior designer to complete the typesetting and layout. I'll also be ready to send it to my audiobook narrator, Laura Bannister. If everything goes well, I think the print book and audiobook will release in November.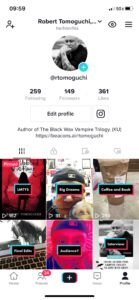 As far as my marketing effort goes, I didn't make much progress with all the time I had while waiting to get the manuscript back. My efforts on Instagram fizzled and I'm making more of an effort on TikTok, but even that's inconsistent as I have a hard time coming up with content. I had some pins made using the design from my favorite tattoo—a scribbled heart with a banner that has the names Yelena and Orly on it. I've sent a few of them out to readers hoping it'll be a nice surprise. I'm also having bookmarks made, but I don't have much visual sense so I'm hoping my designer can make something nice out of my ideas.
I hired a programmer to move my author website from tomoguchi.com to rtomoguchi.com. I did this to better match my social media handles.
I didn't pick up any new hobbies during my time off from writing either. Instead, I've been reading and watching reality TV. I fell in love with this show called Ainori Love Wagon, but already watched all the available episodes. I hope it comes back for more seasons.
I'm stalling from posting this. Part of that is because I'm hoping I've forgotten something that I can mention to make my life sound more interesting. The other part is because I feel nervous to send off the manuscript for production. To assert that I am absolutely done with it, after three years of work, feels so final. I wish the moment was more unique, but here I am, sitting in my usual seat, at my usual Starbucks, on my second drink.